Fletcher Memorial, 1896
The dedication ceremony for the completion of the Fletcher Memorial was held at Staglieno on Columbus Day, October 12 2015. This ceremony was organized by the U.S. Consular Agency in Genoa.
Brizzolara angel sculpture

Biological growth was attacking the surface of the marble.

Fletcher laser cleaning

Lasers are a well proven method for safely cleaning marble. In these work in progress shots you can see the results.

Memorial before restoration

Prior to restoration, covered with corrosive mold, mildew and dirt.

Fletcher laser cleaning

The laser is tested and calibrated to the exact frequency needed to loosen the dirt without damaging the marble, then in slow passes it cleans the surface.

Fletcher laser cleaning

A rear view of the sculpture during the laser cleaning phase

American eagle and shield

James Fletcher was the U.S. Consul in Genoa, and his family memorial has the American eagle and shield.

Fletcher Memorial, 1896

Luigi Brizzolara's 1896 memorial for U.S. Consul James Fletcher, his wife and daughter, shown prior to restoration.

Fletcher memorial restored

The completed restoration

The restored monument

With technological advice from the University of Viterbo, this was the first time in Italy that lasers were used not just to clean a marble statue but as a biocide to remove biological infestation.
From his early work with his father, a cabinetmaker and woodcarver, Luigi Brizzolara, acquired a sense of delicate and precise craftsmanship that imbued his work throughtout his life. Coming to Genoa around the age of 20, he studied under Giovanni Scanzi, one of the leading proponents of the late 19th C. Italian sculptural realism. His sculpture of Ismaele Morente, created when he was about 24 years old, brought Brizzolara his initial fame, and commissions for memorial work soon followed. Influenced by the work of Bistolfi and Rodin, his style blended Art Nouveau with Realism. He produced numerous monuments and public sculpture in Italy, Brazil, and Argentina.
This work suffered from encrustations of dirt, mildew, and biological growth that was breaking down the surface of the white marble. It had also sustained some damage over the years, including loss of part of the angels wings, some fingers, and a few other elements. Thanks to our preservation work it will continue to speak eloquently to future generations.
James Fletcher was the longest serving U.S. Consul in Genoa, serving 1883 to his death in 1901. Born in England September 29, 1840; he emigrated to the United States in 1848; served for over three years as private, non-commissioned officer, and served as a first lieutenant in the Third Vermont volunteers during the civil war; after being mustered out of the Army he moved to Waverly, Iowa, and engaged in the book and stationary business, where he became editor and one of the of the proprietors of the a newspaper, Waverly Republican. President Chester Arthur appointed him Consul in Genoa, and remained through the administrations Grover Cleveland, Benjamin Harrison, and William McKinley.
This monument, carved in White Carrara marble, is dedicated to the wife and daughter of James Fletcher, both of whom died during his service in Genoa. This restoration was carried out by Elena Franceschini of Artemisia s.r.l. – Restauro Opere d'Arte, Forli, Italy.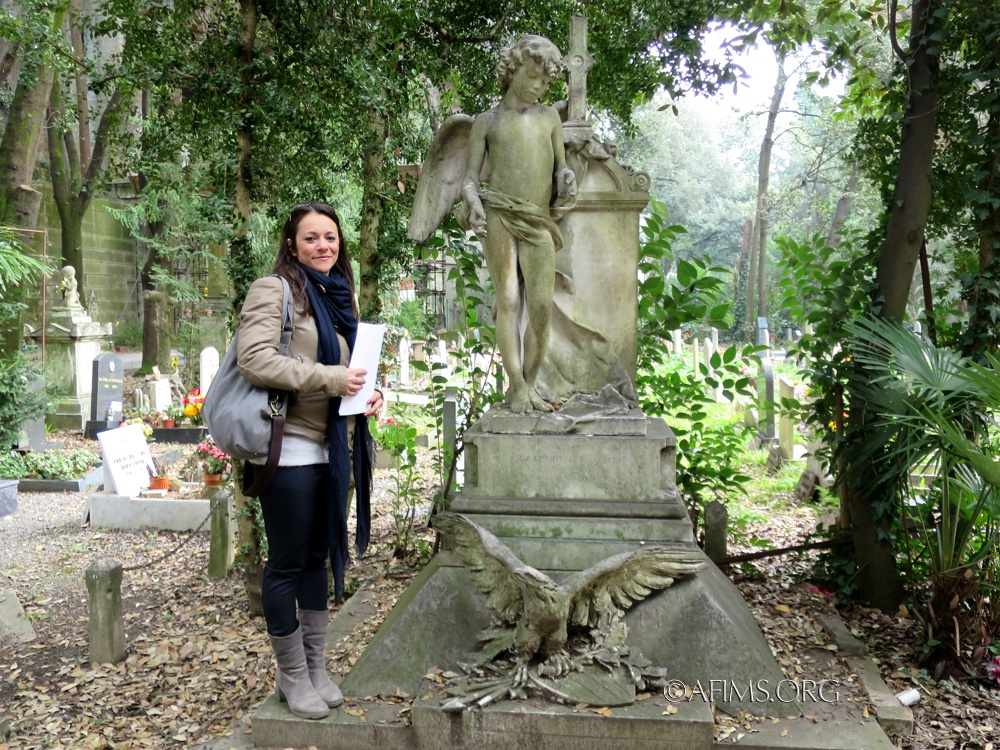 The restoration professional, Elena Franceschini, with the monument prior to restoration.